When you're signed in to the Jackpot Club Help Centre, you can check the status of any support tickets for your venue, see all the correspondence, and even add comments or ask for an update. Click here if you need help signing in.
To do this, just click on your username at the top-right of the Help Centre and then click on My activities.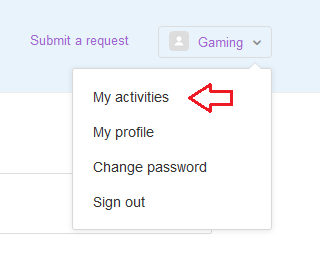 You will see a list of support tickets submitted by the current user (Gaming in this case).


If you want to see support tickets submitted by ALL users at your venue, click Organization requests. In the example below you can see there is now a support ticket visible that was submitted by Manager.

You can click on any of the support tickets in the list to get all the details and updates for that ticket, and you can also respond (just type your comment in the box and click Submit as in the example below).